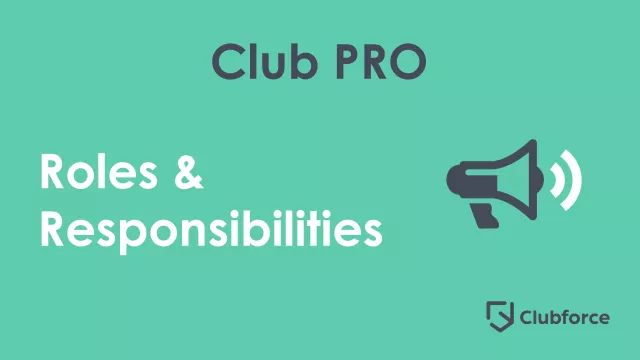 Clubforce is publishing a series of articles on the roles club volunteers can play at their local sports clubs, looking firstly at the club officer roles and then at coaches and other volunteering roles. If you are new to a volunteering role at your club or if you are considering contributing to your club as a volunteer, this series may prove useful in assessing which role would suit you best. 
Over the next few weeks we will look at the following roles: 
Registrar
Children's Officer / Child Welfare Officer
Coaches
Other Volunteers
What is a PRO? 
The Public Relations Officer (PRO) role at any sports club plays a vital role in sharing club information with the general public. The PRO will regularly work with other club officers, coaches and other club volunteers and act as the voice of the club when dealing with the media and wider public. 
The PRO is responsible for giving the public the best image of the club – this helps with attracting new members to the club and keeping existing members aware of the latest initiatives and engaged in club activities. 
What are the duties of a Club PRO? 
The PRO has a constant workload at any well-run amateur sports club. The effort relates directly to preparing for match days and more general day-to-day tasks that are covered in more detail below: 
Preparing for match day
Depending on the size of the club and the level of competition they participate at, the PRO role can be very busy during the playing season and much of the role at this time involves co-ordinating other volunteers at the club. Typical tasks around matchday include: 
On match day, if a club is hosting a game, the PRO ensures that the pitch is ready to play on – grass cut, pitch markings, hanging nets, car park open etc.   
Announcing fixtures, club travel arrangements (where applicable) and match results to the supporter base and the wider community
The PRO also takes responsibility for club appearance on match days – ensuring club kit (socks, shorts, jerseys etc.) are consistent 
Sharing teamsheets with league /county board officials / local media organisations
Compile and/or contribute to match programmes and arrange for printing and distribution (or sale)
Distributing club notes and match reports to local newspapers and smaller publications such as community newsletters and free-sheet newspapers
General PRO tasks
Away from matches, the PRO is kept busy keeping the club in the public eye. Some common tasks would include: 
Keeping members and ex-pats up-to-date with news and club fundraising through social media, app notifications and club newsletters
Monitor social media to ensure club is not inadvertently misrepresented 
Distribute club posters (e.g. fixture announcements, social events, lotto draws) to local businesses, schools and community centres
Communicating with team and club sponsors (keeping sponsors up-to-date with club progress)
Communicating with parents of underage members (games times, training arrangements, tournaments etc.)
Documenting communications with third parties and collating news for future reference
For public events on club grounds the PRO should ensure the club is well presented to the public (grounds / clubhouse etc.) and coordinates other volunteers in this effort
Through this constant routine, the club PRO will build a network of media contacts which may prove useful if and when the club undertakes a specific fundraising venture that requires media coverage. It's important to document this contact list to handover to the incoming PRO after next AGM. This smooth transition helps to ensure continuity in the success of the club PRO role. 
What are common traits of a Club PRO?
Depending on the size of the club and the availability of volunteers, the person who acts as PRO may fill other roles as well (e.g. Secretary) but ideally the role would be specific to one person within the club. The PRO is a public facing role and as such, the volunteer should ideally be someone who enjoys dealing with people from all walks of life. 
PRO's also tend to be detail-oriented, have a good general awareness of local affairs in sport and are capable of managing a wide variety of tasks at the same time. The PRO should display a high standard of written and verbal communication skills and be persuasive when dealing with other volunteers and external parties. Very often this role is filled by school teachers, office administrators, journalists and/or marketing professionals who would apply much of these skills in their day jobs as well. 
For more on the role of the PRO and what is expected from them in GAA organisations, you can access GAA documentation here. It's fair to say there's a lot involved for this role which is usually done in limited time on evenings and weekends, so any additional support that can be given by other volunteers to assist the PRO at your local club would probably be welcome.