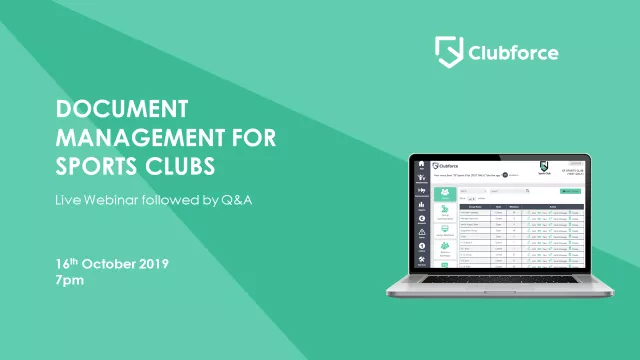 Each Wednesday we host a webinar showing how Clubforce makes life easier for your club's officers. Join Clubforce training specialist Francis Creaven for a presentation and Q&A session to discover how your club officers can get more done in less time.
This Wednesday (16th Oct) Francis will be discussing Document Management for Sports Clubs. This webinar would best suit, secretaries, chairpersons, registrars and child welfare officers.
Click here to Watch this Webinar.
Document management and ensuring GDPR compliance when processing data can be tricky – join this webinar to see how Clubforce can help make it easier.
In this Clubforce webinar, you will discover:
– how members can send documents securely through their Clubforce account
– where police vetting forms, coaching qualifications, first aid qualifications etc. are stored
– how club administrators can review those documents
– how to issue reminders if police vetting forms are out-of-date
– how to restrict access on who can see these documents
Planning a trip away with your sports club can be a stressful time for club volunteers, especially when travelling over seas. With our Document Wallet feature, club members can securely upload documents they may need share with the club for trips away etc.  For example you can upload a copy of your passport if you are going overseas and need to book flights.
Club members can upload other important documents such as qualifications for various coaching courses, First Aid courses etc. Police Vetting forms can be uploaded with additional functionality to set reminders for club officers and coaches when their vetting forms are set to expire.
Permission to view this information can also be restricted by the club e.g. only the Secretary and/or Child Protection Officer can see Police vetting forms.
In our Single Member View feature, club admins can also see associated memberships (e.g. children, spouse etc.), view a full history of payments and memberships paid, view communication preferences of the member and see an archive of any documents uploaded by that member.
To find out more about Document Management for Sports Clubs, why not register for our webinar next Wednesday (16th) @7 pm.
If this evening doesn't suit, Click here to see the full schedule.
For more information on how Clubforce can help your club, call us today on +353-91+506048 or fill in the form below and one of our team will be in touch.