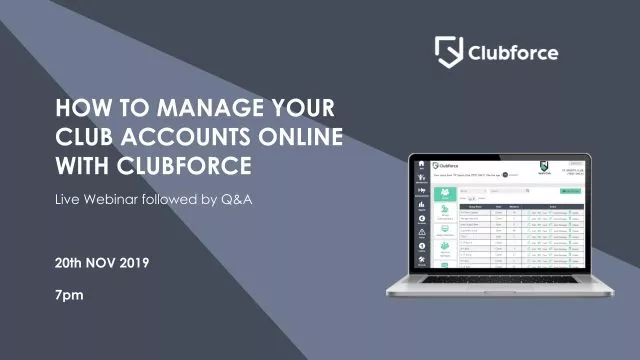 Each Wednesday we host a webinar showing how Clubforce makes life easier for your club's officers. Join Clubforce training specialist Francis Creaven for a presentation and Q&A session to discover how your club officers can get more done in less time.
This Wednesday (20th Nov) Francis will be discussing " How To Manage Your Club Accounts Online with Clubforce ". This webinar would best suit Treasurers, Secretaries and Chairpersons.
Our latest feature gives clubs the ability to issue invoices and receive online payment for those invoices through the Clubforce system – ensuring other streams of revenue can be processed and tracked through the Clubforce admin panel with no requirement for cash to change hands. This is particularly useful for clubs looking to process sponsorship revenue, manage clubhouse bookings, accept payments for astro-turf rental or even for issuing gift vouchers.
Taking registrations online is beneficial in many ways, when looking at accounts it enables clubs to do full overview of the financial performance of the club. Club Treasurers are responsible for managing the flow of money into the club and for allocating and recording how that money is spent to run the club. This is a vital role as the treasurer works to ensure the club is able to meet its day-to-day expenses and prompts the need for increased club fundraising where a shortfall exists.
In this webinar you will find out:
– Generate and send out Invoices to your members
– How to produce detailed Accounts Summary Reports
– Breakdown revenue by Membership plan and age grade
– Process Refunds at the click of a button
– See in real-time who has paid and who is in arrears
– How to Transfer funds to your bank or NGB effortlessly
To find out more about "How To Manage Your Club Accounts Online with Clubforce", why not register for our webinar next Wednesday 20th November @7 pm.
If this evening doesn't suit, Click here to see the full schedule. All webinars are available to watch back also on that page.
For more information on how Clubforce can help your club, call us today on +353-91+506048 or fill in the form below and one of our team will be in touch.