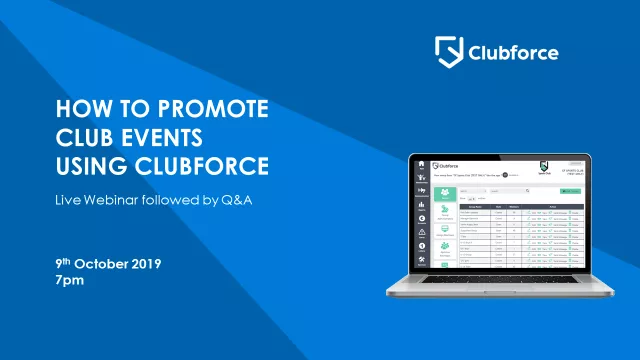 Each Wednesday we host a webinar showing how Clubforce makes life easier for your club's officers. Join Clubforce training specialist Francis Creaven for a presentation and Q&A session to discover how your club officers can get more done in less time.
This Wednesday (9th Oct) Francis will be discussing How to Sell Tickets & Promote Clubs Events using Clubforce. This webinar would best suit, PRO's, Treasurers, Registrars and Secretaries.
Maximising the financial return your club gets from a fundraising event takes a lot of work – join this webinar to see how Clubforce can help make it easier.
In this Clubforce webinar, you will discover:
– how to announce your event effectively to club members 
– how to run your event using e-ticketing – no ticket printing needed!
– how to boost event income by having a local business sponsor e-tickets and receipt emails
– how to report on event income and attendance
Click Here to Watch Recording!
Creating and Managing tickets sales for events, giveaways and matches is easy with Clubforce.
The Tickets module of Clubforce allows club administrators to raise funds for the club with minimal effort and hassle without having to mobilise volunteers to sell tickets, collect and transfer cash to the bank, gather and coordinate all data offline, print tickets or worry about getting tickets to the member on time. 
For match tickets, raffles, prize giveaways (e.g. Christmas draws), Clubforce has everything you will need to run a successful ticket-based fundraiser without having to create a new account on a different platform, incurring further costs for every additional feature you require.
Any club event can be managed online using the Clubforce platform without using disconnected systems – ensuring all your member data is always kept in one place.
Annual club celebrations such as Awards Presentation Nights or ad hoc events such as trophy celebrations using Clubforce to simplify the registration process, reduce paperwork and streamline fundraising.
To find out more about How to Sell Tickets & Promote Clubs Events using Clubforce, why not register for our webinar next Wednesday (9th) @7 pm.
If this evening doesn't suit, Click here to see the full schedule.
For more information on how Clubforce can help your club, call us today on +353-91+506048 or fill in the form below and one of our team will be in touch.