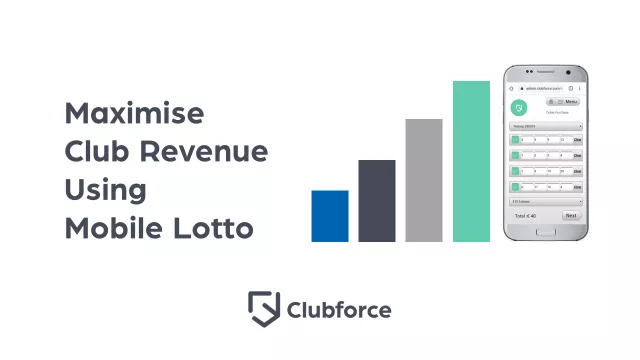 By Paul Madden
The Clubforce mobile lotto app is the perfect way to transition your traditional offline selling activity online and to get more club lottery tickets sold to a greater number of supporters at home and abroad – no physical tickets means less limits on when and where tickets can be sold. Volunteers can sell tickets from afar
Why use Clubforce mobile lotto?
Some clubs rely heavily on having a good team of traditional offline ticket sellers who go door-to-door, sell at work and through local businesses and down in the local pub. Other clubs have had great success selling club lotto tickets online, requiring less volunteers and relying on social media and messaging platforms to get the word out. Both approaches generate healthy incomes for clubs but there's a missed opportunity to increase revenue if all available resources are not put to use.
Mobile lotto allows clubs to get the best of both worlds as they can their sellers on the ground can open the door to regular ticket purchases online.
Benefits of mobile lotto ticket sales:
Transparency for members and club administrators – a full record of all tickets sold online is available in the club admin panel.
No paper tickets needed – players get an instant SMS confirmation of their purchase and their ticket is processed and checked online by club officials. No tickets getting lost in the washing machine!
Time saving – countless hours manually comparing tickets to lotto results is eliminated as the Clubforce system does the check instantly and alerts the club to winning tickets.
Attract new players – volunteers spend less time selling to the old reliable lotto players, which means they can focus on attracting new support for the club
Worldwide players – when its played online, club lotto can be played by anyone, anywhere at anytime.
Worldwide volunteers – club members can volunteer for the lotto from the other side of the world as they don't have to return physical tickets in advance of the draw.
Getting started with mobile club lotto
Mobile lotto can have a substantial impact on your club's yearly income. Growing your club lotto revenue starts with setting out a plan for the year and targets to aim for.
Set a target – be realistic about what your club can achieve in a given time frame with a modest number of volunteers.
Appoint your army of volunteers – all they need is a smartphone, a few spare minutes each week and a place to sell. Don't start with too many volunteers, think about where they are located and the variety within the group (e.g. include younger members, people who work away from home not just people with time to spare)
Identify opportunities to sell – are there local events your volunteers can attend to sell? Can they sell at matches (home/away), the clubhouse, fundraising nights, quiz nights, local concerts, voting days etc.
Using Mobile Lotto on Clubforce
Mobile lotto is simple to set up and your club volunteers can be out selling lotto tickets in a matter of minutes. Follow these steps to get mobile lotto activated for your club:
Start by adding mobile sellers in the Clubforce admin panel. Go to Lottery > Mobile Lotto and from the dropdown Menu click "Add Sellers". Enter the sellers name, a username and password and their mobile number and click the "Add Seller" button to complete the set-up process. It's that simple! The log in details will be sent directly to their phone via SMS.
Seller logs into their account by clicking the link in the SMS message and entering their log-in details.
Start selling! The new lotto volunteer is ready to start selling lotto tickets. Go to Menu > Sell to collect new players details (Name, email, phone) and allow them to pick their numbers. Collect payment from the player in cash as normal but no ticket is required. The player will be sent their numbers and the amount they paid via SMS.
Club confirms ticket in the admin panel and a confirmation SMS is sent to the player.
Funds collected by the volunteer can be transferred by card payment, in cash or via bank transfer as arranged between the club and the seller.
Making the transition
Once a player has played through mobile lotto (and opted in to future communication via email), they can receive reminders to play the lotto again when their tickets expire – and when playing online they can select to auto-renew their lottery subscription, ensuring a regular contribution to the club.
Many clubs rely on a small number of regular lotto contributors to generate a steady income and selling to these volunteers each week takes a lot of volunteering time. By transitioning these players online, club volunteers are then able to move on to targeting new players – broadening the base of players which increases the lotto income of the club and improves the number of repeat purchases without placing extra demands on club lotto volunteers.
Maybe of interest?
If you are looking to improve your clubs lottery fundraising, these articles may be of interest:
Please attend our Mobile Lotto webinar, which takes place on Thursday 20th of Feburary at 7pm
Tips on how to grow your club lotto via social media